Save up to £1,000 per person
PLUS: Unlimited FREE Drinks or €200 to spend on board!* Book by 30 April 2019
Every Emerald river cruise is full of extras, from a mouth-watering choice of dining options to amazing trips. Return flights from a selection of UK airports with transfers from airport to ship and back are standard, of course, so all you need to do is get to the airport on time!
From Europe to South East Asia & beyond, Emerald have put their stamp on luxury river cruising with state-of-the-art Star Ships and well planned itineraries plus the 'Emerald VALUE' promise, ensuring an unforgettable holiday that offers great value for money.
Call The Cruise Specialists on
0330 094 0218

in order to book your next Emerald River Cruise voyage

* New bookings only, not available on Speciality Cruises, Egypt & Jordan, Russia, South East Asia, the Dalmatian Coast  or 2020 European River Cruises.
Discover the Secrets of the Douro River
Tune in on Friday 19th April at 9pm on Channel 5, when you'll see Jane McDonald travel down the majestic Douro river valley in Portugal on board the Emerald Radiance and discover a region of picturesque beauty, steeped in history and awe-inspiring grandeur.
April to November 2019*
WAS from £2,745pp NOW from £2,145pp
Book NOW and we'll give you a FREE premium drinks package or €200 stateroom credit
April to November 2020**
WAS from £2,145pp NOW from £1,645pp
Book NOW and we'll give you €250 stateroom credit PLUS book with a low deposit of £300pp
*Based on departure date of 10/08/19
**Based on departure date of 07/11/20
What's included in your Emerald river cruise: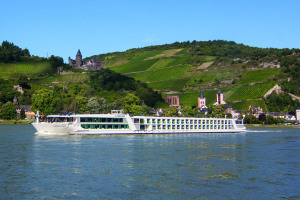 Lower Danube Waltz including saving of £1000pp
03 Aug 2019
Cruise Line :
Emerald Waterways
itinerary : Vienna Vienna Budapest Pecs Osijek Novi Sad Belgrade Belgrade
SEARCH ALL EMERALD WATERWAYS CRUISES NOW WITH THE CRUISE SPECIALISTS: